Cetronia's Youth Lifesaving Programs Grow Thanks to Embassy Bank
June 22, 2018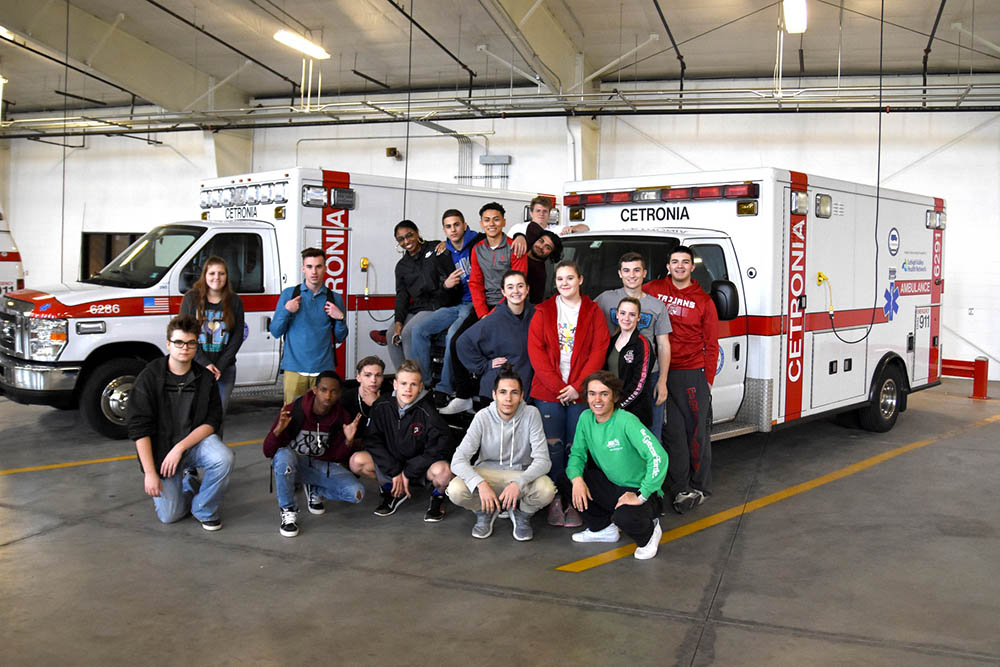 Cetronia Ambulance Corps will be able to purchase new equipment for their youth programs thanks to Embassy Bank and the EITC Grant. The youth programs are designed to offer a hands-on experience that is educational, fun and rewarding.
An integral skill learned through the Cetronia youth programs is CPR. "Any training provided, whether young or old, has the potential to save lives," said Cetronia's CEO Larry Wiersch. It is a proven statistic that onsite CPR is the #1 lifesaver, meaning the more people who know CPR, the more lives that will be saved. "We equip the youth of our community with the lifesaving skills needed to help someone before paramedics arrive," added Wiersch.
Along with the CPR training, Cetronia offers a number of other youth programs that make use of this funding, including the Youth EMR/Teen Associate Program and the "Andy the Ambulance" educational program.
The EMR/Teen Associate Program is a unique educational program that gives teens real life, hands on experience. Once students, age 14-18, pass the Emergency Medical Responder program they are able to serve as a third person on Cetronia's basic and advanced life support ambulances. The teen is then able to help assist the crew administer pre-hospital emergency medical care.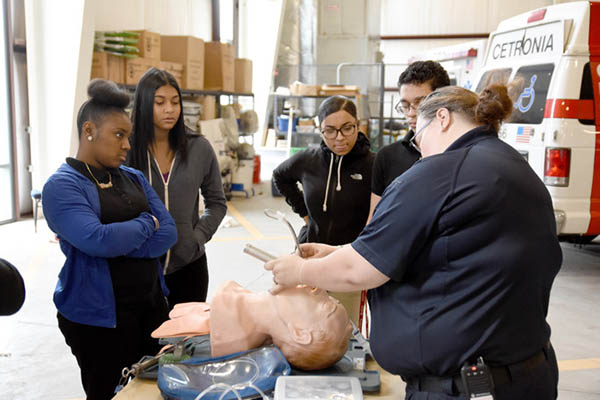 The "Andy the Ambulance" youth program caters to a younger audience. "Andy the Ambulance" is a robotic replica of a Cetronia ambulance with the ability to interact with young children in an innovative and effective way, educating them in the following areas - how and when to call 911, what to do in an emergency and basic safety and first aid measures. "Andy" is ideal for visiting day-care centers, pre-schools and elementary schools.
To improve the overall quality of the training and education offered, Cetronia will be putting some of the funds towards a more up-to-date simulator. "The donation from Embassy will be used to help us purchase a simulator for our training mannequins. This simulator will give us more realistic medical scenarios, more fidelity, and vital signs and interpretations for the mannequins," said Stephen Hall, the Director of Education for Cetronia.
Embassy Bank chose to donate to Cetronia because they believe in their cause. "We see all the work Cetronia is doing, how many lives they help save and how they are getting the youth of the community involved through these incredible programs. We are happy to join in their lifesaving efforts," said David M. Lobach Jr., President and CEO of Embassy Bank. Embassy Bank works with and contributes to many other non-profit organizations as well, but they want to help make sure that Cetronia's youth programs keep up their outstanding work with the equipment that they need.
"We never want to stop training the youth. Seeing kids smiling and enjoying an educational program is not only great to see, but knowing they are also learning life saving techniques is what is most important," said Larry Wiersch. "We are very thankful for the EITC donation from Embassy Bank, and we will keep growing our programs to help save as many lives as we can."
The EITC, or the Educational Improvement Tax Credit Program, is a tax credit that is used towards scholarships or an Educational Improvement Organization. In this case, the money is being given to Cetronia, which has been a part of the EITC for 6 years, to help upgrade supplies and technology for their youth programs.
For more information on the youth programs offered by Cetronia, please visit http://www.cetronia.org/cetronia_47_3_3_youth_programs.html.
Back to News